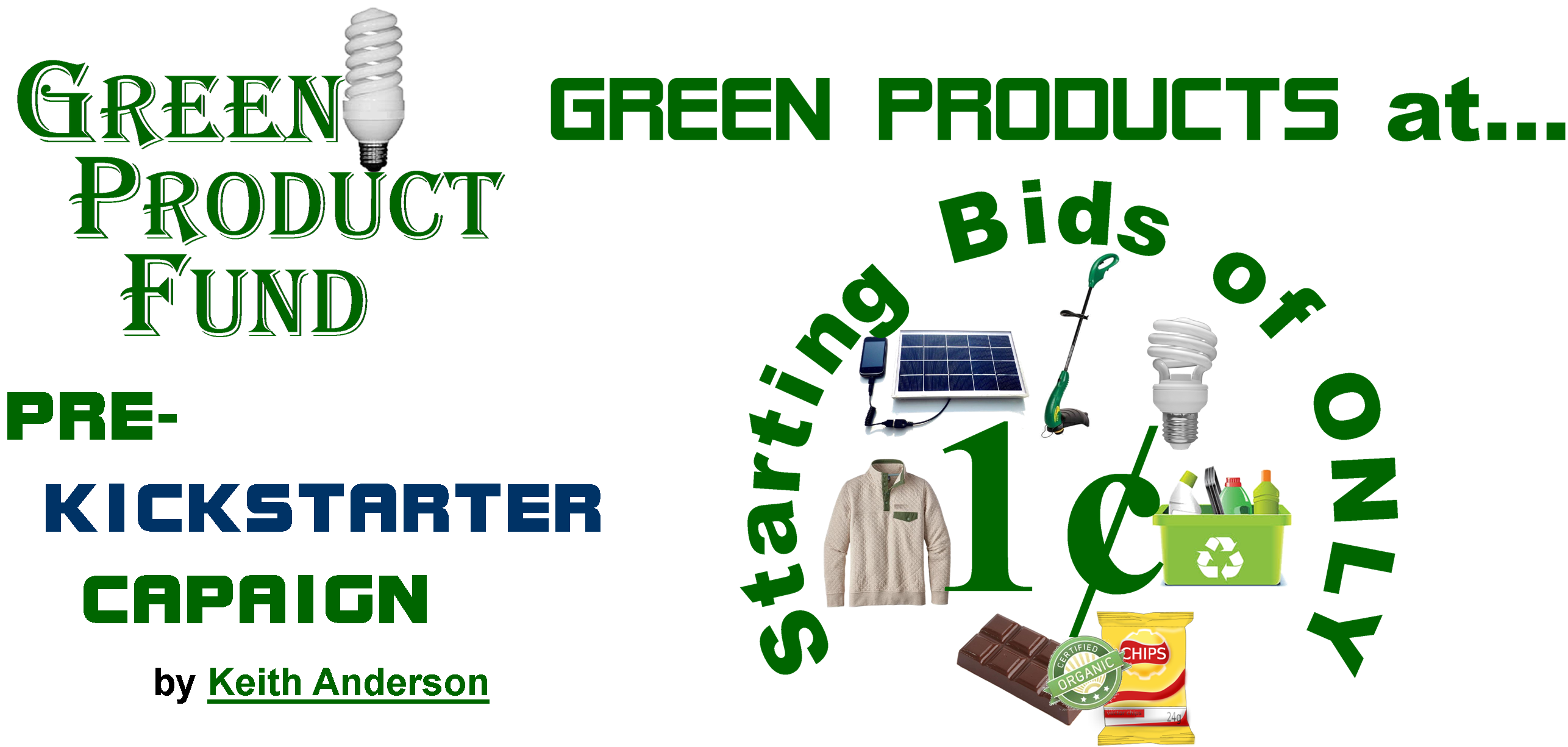 See Future GPF SUPPLIERS
ABOUT
Greetings Green Community,
Welcome to the absolute BEST strategy EVER regarding combating
global warming, environmental decay, and global economic imbalance...
...promoting green (and Fair Trade) SPENDING HABITS!
And, the best way to do that is to offer green & Fair Trade products at IRRESISTIBLE PRICES
compelling consumers to take notice and come after them HOT & HEAVY.
Such is the purpose of the Green Product Fund (GPF)--whereby green/Fair-Trade
products will be bought at bulk discounts from suppliers and then offered up for
auction at starting bids of ONLY 1¢! Tell me that won't guarantee sales!
Besides providing established suppliers with another outlet for marketing, the GPF
would be a GREAT way for emerging sellers to introduce themselves to the marketplace.
And, besides marketing their standard green stock, sellers could also "test market"
new products at little to no risk.
INITIAL OPERATIONS
The GPF would begin as a home-operation project and then expand as a co-operative to
facilities of ever-increasing size and location--eventually globally. Initially, I would manage all
operations, charging no fees for my time and labor. All costs would be accommodated via
product sales and **paid advertisements on the GPF site. (**Thus, the more famous the GPF
becomes, the more it can command in ad revenue, the more products it can offer in auctions.)
Any money generated from product sales and ad sales would be deposited right back into the
GPF pot to buy more bulk-discount products, with that cycle being repeated. If the GPF folds,
whatever money is left would be donated to GreenAmerica.org (not associated with the GPF
in any way).
There will be NO COST to join the GPF. Just become a member
and then log into begin bidding/buying any products available.
As ecological and human-rights activists, we've tried marching in the streets, picketing
events, and yelling loudly with megaphones outside the offices of the powers that be.
Now let's join forces to master the ULTIMATE weapon on Earth...MONEY!
Instead of BATTLING the powers that be who would destroy the earth, let's
BECOME the powers that be, dedicated to preserving our precious planet...with the GPF!
CROWDFUNDING
The current purpose of this site is to get you excited and motivated to
support and contribute to the future Kickstarter Crowdfunding Campaign that
will be conducted in order to raise the necessary capital to launch the GPF.

The target goal will be $50,000--in an ALL-OR-NOTHING Kickstarter campaign. Therefore,
no one risks losing any money. One portion will go toward paying a firm to program the
GPF Web/App site, another toward promoting the GPF, and the last toward purchasing
the first green/Fair-Trade goods for the initial GPF auctions.
MAKE A PLEDGE
Right now, I'm seeking to gain enough pledges beforehand so that, when the Kickstarter campaign is
launched, there should be enough funds guaranteed to materialize way before the campaign's time runs out.
IF YOU PLAN TO DONATE to the Kickstarter campaign...
simply complete this Contact FORM to pledge an amount. (Use subject: "GPF Pledge.")
REFERENCES
Now, to put your mind at ease regarding my integrity, I'd like to give some references:
Check out my stellar ratings on eBay and Amazon. I also invented a board game you can order from me
to sort of "try me out"--PIVOTATION. Or you can contact me regarding any and all things I have on eBay and/or
Amazon and get them directly from me at a cheaper price via PayPal invoice.
Also, one other thing: I HAVE conducted GFP auctions in the past...TWO OF THEM.
The first, ended December 5, 2010 and featured African baskets from BasketsOfAfrica.com. Contact the owner,
Cael Chappell--by email ONLY so as not to disturb his routine--through the Baskets Of Africa Email Form.
Another Reference: *Adrienne Catone (Also GPF Supplier) * FaeriesDance.com (*email her only.)
The second ended May 6, 2012 and featured products from a body-care company. However, the representative
who officiated over the bulk-purchase for the auction no longer works there; therefore I will not identify the
company on this page. Those wanting to know about it will have to contact me, whereupon I'll respond to them
individually.
After examining these references and the info regarding the GPF project, I hope
you contribute to the cause of making this project a reality for the betterment of Earth
and man.--Keith